Your Health Care
ChamberCare Health Alliance: The Perfect Match for Your Small Business
July 31, 2019
Health coverage just for Indiana small businesses

Now there's a way to offer your employees health benefits usually offered to larger businesses, while you save money. It's called ChamberCare Health Alliance and it's brought to you through a partnership with the Indiana Chamber of Commerce, Indy Chamber and Anthem.
ChamberCare Health Alliance offers your employees high-quality coverage that's flexible and affordable. And you get a full range of cost-saving coverage and options. Plus, your employees get all the perks that come with an Anthem plan, including one of the largest provider networks in the country.
With head-to-toe coverage
In addition to medical benefits, ChamberCare Health Alliance gives you discounts on dental, vision, life and disability plans so your employees can get whole-person care.
Including well-being solutions
All of the plans come with a variety of health and wellness programs designed to keep your employees healthy and productive:
• LiveHealth Online lets employees see a board-certified doctor 24/7 from a mobile device or computer with a webcam.
• 24/7 NurseLine makes it easy for your employees to talk to a registered nurse anytime.
• Future Moms gives moms-to-be the support they need to prepare for birth.
• ConditionCare helps employees manage ongoing conditions to improve their health and reduce sick time.
• Case management connects employees who have complex health issues to nurses and behavioral health care professionals.
And financial advantages
Because you're grouped with other small businesses, you get:
• Competitive rates.
• Rating methodology that can lead to lower premiums.
• Flexibility in choice of benefit plans.
• Membership to the Wellness Council of Indiana.
• Anthem's broad Blue Access PPO network and Essential Rx formulary.
• Discounted rates on dental, vision, life and disability.
Is my business eligible?
ChamberCare Health Alliance is available to small business employers with at least two employees enrolled on their medical plan and no more than 50 total employees including part-time and seasonal employees. The business must be located in Indiana and must be a member of either the Indiana Chamber of Commerce or the Indy Chamber. See this map to find out which chamber to join.
Chamber territory map
Indiana Chamber of Commerce
All counties outside of Marion
Indiana Chamber of Commerce or Indy Chamber
Boone, Hamilton, Hancock, Hendricks, Johnson, Madison, Morgan and Shelby counties
Indy Chamber
Marion and surrounding counties: Boone, Hamilton, Hancock, Hendricks, Johnson, Madison, Morgan and Shelby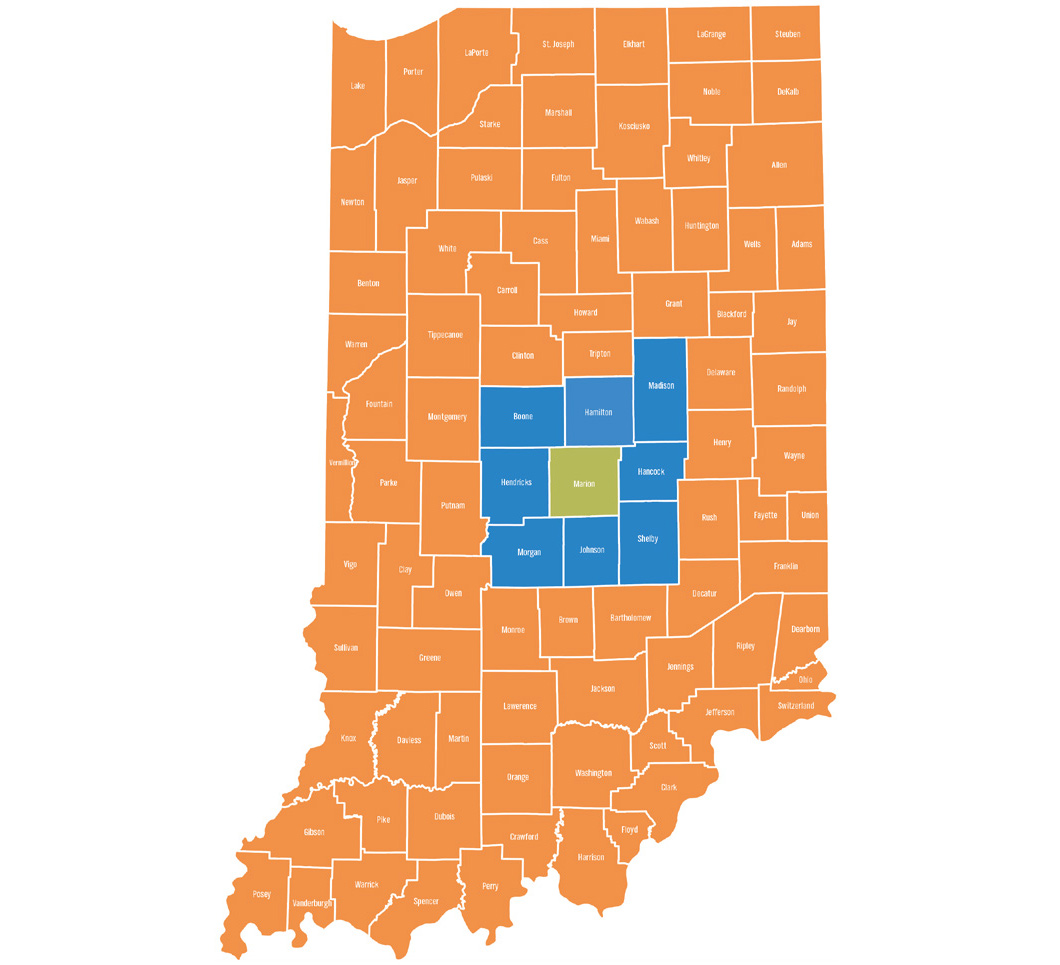 Ready to join?
Contact the chamber that serves your area.
Indiana Chamber of Commerce
Brett Hulse, director of membership strategy
Indy Chamber
Karina Platacis, membership administrator
Still have questions? You can find answers here.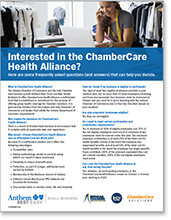 Get helpful answers to the most frequently asked questions.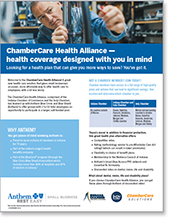 This flyer offers a high-level description of the ChamberCare Health Alliance plan.
Get the plan today!
For a free quote, contact your broker, Anthem sales representative or chamber.