Conoce los datos sobre Medicare versus Medicaid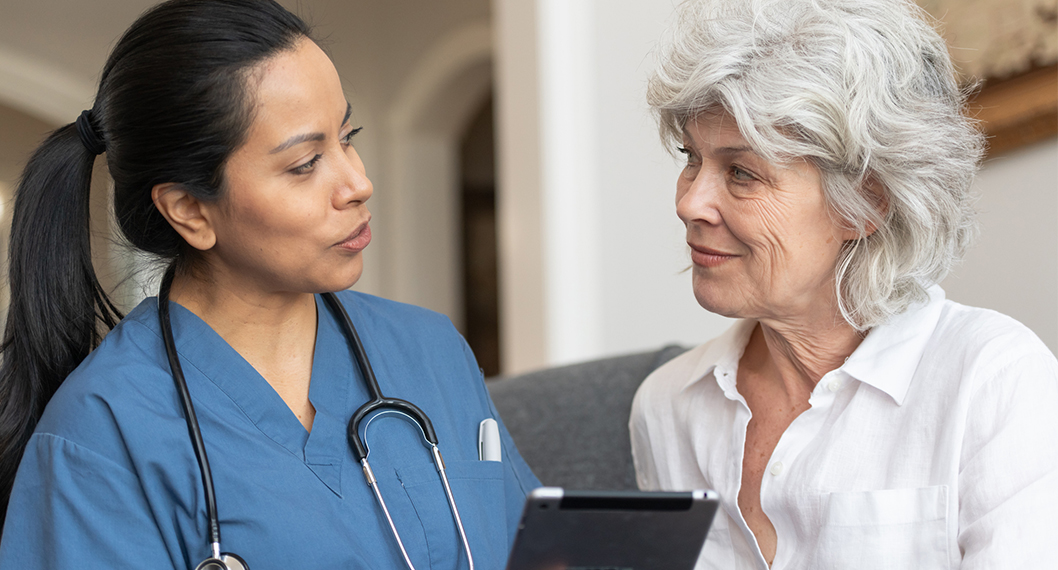 Medicare vs Medicaid: they are different, but both help people access health care. Learn how each program works and see if one or both of them can help you with health care coverage.
The difference between Medicare and Medicaid: Medicaid is designed for people with low-incomes
One difference between Medicare and Medicaid is that Medicaid is a public aid health insurance program for people with low incomes of any age. The government funds Medicaid at both state and federal levels. Medicaid offers federally mandated benefits including inpatient and outpatient medical services such as hospitalization, lab work, X-rays and doctor visits.
Other Medicaid benefits vary by state. These may include prescription drugs, case management, physical therapy and occupational therapy. You can enroll in Medicaid if you meet low-income and other eligibility requirements, which vary from state to state.
Medicare mainly serves people 65 and older
Another difference between Medicare and Medicaid is that Medicare is a federally funded program that provides health insurance for people 65 and older and for individuals with certain disabilities.
Medicare plans come in four parts. Part A and Part B, also known as Original Medicare, work together to cover most of the inpatient and outpatient medical needs of beneficiaries. Part C and Part D, available through private insurers, provide coverage beyond what is included with Part A and Part B.
¿Qué cubre Medicare Parte A?
Medicare Part A is your hospitalization insurance. Medicare Part A includes:
Estadías en hospital (habitaciones semiprivadas) hasta 60 días
Comidas en el hospital
Servicios de enfermería
Servicios de cuidados médicos intensivos
Medicamentos, suministros médicos y equipos usados en las instalaciones
Pruebas de laboratorio y radiografías realizadas durante una internación
Costos de cirugías y recuperación
Servicios de rehabilitación y terapia
Cuidados de enfermería a domicilio de tiempo parcial
What does Medicare Part B cover?
Medicare Part B provides for outpatient medical needs. Medicare Part B includes:
Routine doctor visits
Exámenes, pruebas y radiografías
Vacunas contra la influenza y otras vacunas
Suministros médicos necesarios
Atención de la salud mental para pacientes ambulatorios
Cuidado médico preventivo que sea médicamente necesario
What do Medicare Part C and Part D cover?
You can add more coverage to your Original Medicare with Part C and Part D plans, which are offered through private insurers like Anthem. You can choose one or the other, but not both. Part C, or
Medicare Advantage plans,
offers Part A and Part B coverage and may offer extra benefits including:
Cobertura de medicamentos recetados
Cuidado dental de rutina, que incluye limpiezas, radiografías y dentaduras
Cuidado de visión de rutina, que incluye lentes de contacto y anteojos
Cuidado de la audición de rutina, que incluye dispositivos para la audición
Beneficios de acondicionamiento físico, que incluye clases de gimnasia
Part D plans only offer prescription drug coverage. These plans are a good option when you just need drug coverage added to your Original Medicare.
How Medicare and Medicaid work together
If you're 65 or older and meet your state's income requirements for Medicaid, you can sign up for both Medicare and Medicaid to get affordable health care coverage. Medicaid helps cover costs that Medicare doesn't.
View Medicaid as secondary health insurance
While Medicare is the primary payer for medical needs, Medicaid can cover costs that Medicare coverage does not. When you visit a provider that takes both Medicare and Medicaid, Medicare pays first for the cost of your care. Medicaid pays second, covering copays and other costs not covered.
If you qualify for both Medicare and Medicaid, you're likely eligible for the Qualified Medicare Beneficiary (QMB) Program, one of four Medicare Savings programs. With the QMB program, you'll get help with Part A and Part B premiums, coinsurance and deductibles.
Apply as a dual eligible
Dual eligibles are people who qualify for both Medicare and Medicaid coverage. If you're enrolling in Medicare at 65 and qualify for financial assistance, you can sign up for Original Medicare or Medicare Advantage as a dual eligible. You get the health care coverage you need while also getting help for additional health care costs.